Village History & Features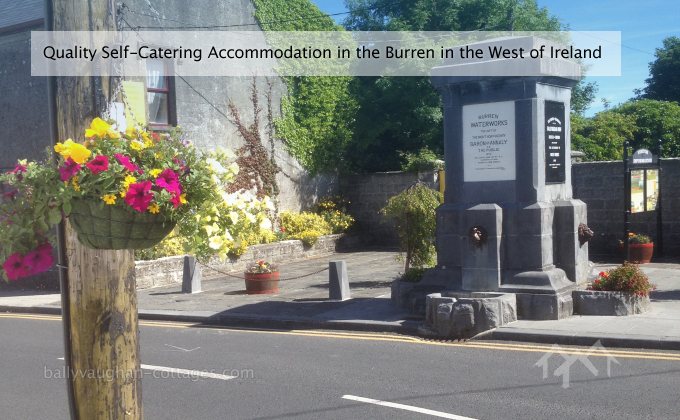 Ballyvaughan, situated in the northwest corner of the wonderful Burren, is undoubtedly one of the most hauntingly beautiful and atmospheric harbour villages on the western seaboard.
This village was originally associated with the O'Behan's, as is evident from the Irish Baile Ui Bheachain. It is best approached from Lisdoonvarna via the Corkscrew Hill where one gets a panoramic view of the wooded valley and the terraced hills, which form a perfect amphitheatre.
Its restaurants serving mostly locally caught seafood are legendary and are well matched by the five public houses, which provide regular sessions of traditional music. Major local attractions include Ailwee cave (Ireland's premier show cave), Pol na Brone dolmen, sea fishing, walking tours (along the famous Burren Way), cycling, horse riding, gift shops, together with the added advantage of a safe and sandy beach at Bishops Quarter.
Perhaps most importantly, Ballyvaughan allows access into the heart of the Burren and allows the visitor to experience the botanical and archaeological wonders of the area. In any weather Ballyvaughan and its hinterland is never less than memorable.
For more information
Historical Background as documented by Clare County Library
Local places to visit as documented by Clare County Library
Water Fountain
In 1872, Lord Annaly built an artificial reservoir on a hillside to the south - east of Ballyvaughan to serve the farming community in the valley. The reservoir is fed by two springs and the water is distributed through a system of pipes in the normal manner. The scheme was extended by the Board of Guardians to the centre of Ballyvaughan under the Public Health Act of 1874, the water being conveyed by gravity in cast-iron pipes laid in crevices in the rock or above ground. A fountain was erected in the village in 1875 by two Connemara stonemasons, the Coyne brothers, who were marooned in Ballyvaughan when their craft sank at Gleninagh pier.
A number of plaques on the fountain record the names of those involved in providing Ballyvaughan with one of the earliest reliable public water supplies in the country.