Golfing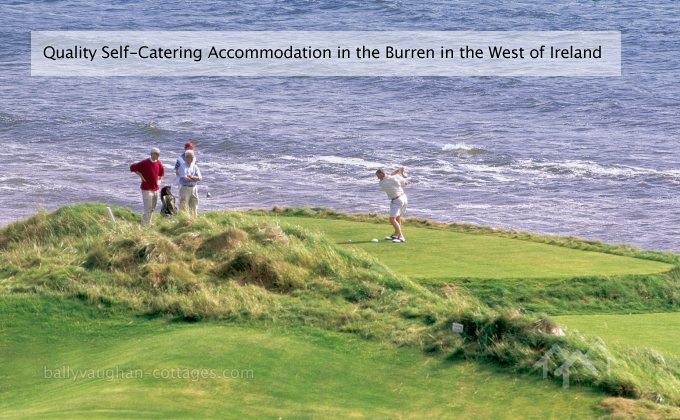 Ballyvaughan village is surrounded by some of the very best golf courses in Ireland and some less know for the golfer to explore. These include:
| | |
| --- | --- |
| Gort Golf Club | 16 miles (25 kms) |
| Lahinch Golf Club | 20 miles (32 kms) |
| Woodstock Golf Club | 23 miles (36 kms) |
| Galway Bay & Country Club | 24 miles (38 kms) |
| Ennis Golf Club | 25 miles (40 kms) |
| Spanish Point Golf Club | 28 miles (45 kms) |
| Loughrea Golf Club | 33 miles (53 kms) |
| Doonbeg Golf Club | 37 miles (59 kms) |
Gort Golf Club
Designed by Ryder Cup star, Christy O' Connor Junior, and officially opened in August 1996, Gort Golf Club is an 18 Hole Championship Golf Course, set in 160 acres of picturesque parkland on the edge of the world famous Burren and within 200 yards of the historic monastic settlement of Kilmacduagh.
Christy Jnr., himself was particularly excited by the new course at Gort, where he regards, the four Par 3's as among the best on offer at any course in Ireland. His equally famous uncle, Christy Senior and his good friends Eamonn Darcy and Des Smyth were loud in their praise of both the course and the club house.
The course is an inviting challenge, and a true and fair test for all golfers. The variety of holes on offer will amply reward the thinking golfer.
Lahinch Golf Club
Lahinch is undoubtedly one of the world's classic links. It has all the ingredients of greatness: a glorious setting, a rich history, superb natural terrain and, where man has 'intervened', it has been through the hand of an outstanding architect. It also has a pair of notorious blind holes, a ruined castle and goats that roam freely on the dunes.
On Good Friday, 15th April 1892, Lahinch Golf Club was duly founded, and the first game of golf played there.
Since the initial laying out of the course, various improvements have been made over the years. Alexander Shaw was not long in realizing that the unique nature of this location deserved very special development. The obvious choice as architect was Old Tom Morris of St Andrews. He accepted the challenge, but other than laying out the tees and greens, he felt there was little he could do. He commented: 'I consider the links is as fine a natural course as it has ever been my good fortune to play over.' More praise was to follow. In 1927 Dr. Alister Mackenzie was invited to make a number of adjustments to the links. On completion he remarked, 'Lahinch will make the finest and most popular course that I, or I believe anyone else, ever constructed.' Not perhaps the most modest statement ever made, but coming from a man who would very shortly design Cypress Point on the Monterey Peninsula and later help to create the legendary Augusta, it can be said that Dr. Mackenzie was not far off the mark.
Woodstock Golf Club
This golf course (par 71) is sited on 155 Acres of parkland.There are many interesting natural and historical features to challenge and intrigue the golfing enthusiast such as mature lakes and an extensive river. The most captivating features of the course are the 4 holes where water is the principle hazard.
Galway Bay & Country Club
The Atlantic Ocean washes the Galway Bay Golf & Country Club on three sides. The prestigious Galway Bay Golf & Country Club, designed by Christy O'Connor Jnr., is set in lush surroundings, richly endowed by the hazzards of nature and surrounded by the stone walls of the Galway region. This championship P.G.A. course serves a magnificent challenge to all golfers, combining captivating views with every natural characteristic required for the true golfing purist.
Ryder Cup Player - Constantina Rocca, winner of the West of Ireland Open stated "One of the best courses I have played... a true test of golf in a spectacular setting"
https://galwaybaygolfresort.ie/
Ennis Golf Club
Ennis is an immaculately manicured 18 hole Par 71 parkland course. It's tree-lined fairways and tight greens present a considerable challenge, while it's relatively even terrain of 5600m make it an ideal course for the holiday and society golfer. The club is noted for it's hospitality and the members and staff extend a warm welcome to visitors.
Spanish Point Golf Club
Enjoying a wonderful setting on Clare's magical coastline, this club offers a very challenging nine hole course.
Loughrea Golf Club
Loughrea Golf Club is home to an 18 hole, 5261 metre, parkland course designed by course architect Eddie Hackett. We have a magnificent new clubhouse with panoramic views of the course, full catering and bar are available. Individuals are very welcome and the best time for visitors is before 4pm Monday - Friday.
Doonbeg Golf Club
Doonbeg Golf Club is designed to be the ultimate links golf experience. Crafted by two-time British Open champion Greg Norman, the layout follows a routing sculpted by nature. Twelve of Doonbeg's fairways were simply mowed, and the putting green undulations generally follow the lie of the land. The course, situated between 1.5 miles of crescent-shaped beach and centuries-old dunes, affords ocean vistas from the green, fairway, or tee on 16 of the 18 holes. Since opening in July 2002, Doonbeg Golf Club has garnered scores of international acclaim, including Golf Digest's coveted "Best New International Course of 2002" designation.
The following quotes from Doonbeg Golf Club's website say it all about this wonderful new course in County Clare.
Greg Norman has said " . . . It's Ireland. It's Irish golf. It's links golf. Sand dunes like you'll never see again, working hand in glove with the environmentalists. I tell everybody about this course. I tell them that I have got the best site in the world and it's at Doonbeg in Ireland." He goes on to say "This is a course I want to be identified with, one I will be able to say with pride -- ' I did that one.' I am the luckiest designer in the world . . . because of the uniqueness of the site."
"The sounds and smells that evoke tradition live on: the crunch of spikes on gravel, the murmur of the caddie's voices as they wait to go out, the chink of glasses in the bar, the aroma of hot buttered toast, and the fragrance of pipe and cigar tobacco lingering -- after the last member has gone home."
John de St. Jorre from Legendary Golf Clubs