Horse Riding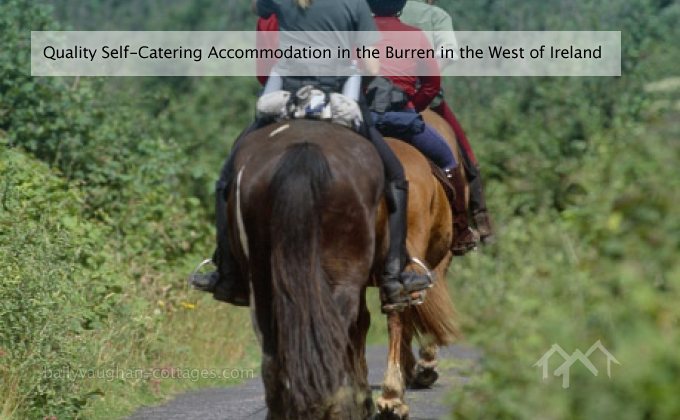 The Willie Daly Riding School (Ennistymon)
The school caters both to the beginner and the more experienced rider by offering one, two, and three hour rides. A lead instructor will take you along the haunted house ride (one hour), on a trek through a very scenic mountain bog (two hours), or around a beautiful lake (three hours). As an aside, Willie is a renowned third generation matchmaker – you may wish to avail of this service as well!
Tel:  +353.65.7071385  (25 minutes from Ballyvaughan)
Mountain View Trekking & Horse Riding Centre  (Lisdoonvarna)
The centre offers a range of packages for visitors. Many of their horses are Irish sport horses and our ponies are all pure bred Connemara ponies. All the horses and ponies are kind hearted and gentle and make for great riding companions while on treks and excursions.
For beginners they trek along in a gentle pace, while for more experienced riders you can enjoy a canter or gallop along a green road or path. 
Web: www.mountainviewtrekking.com
20 minutes from Ballyvaughan