Medieval Banquets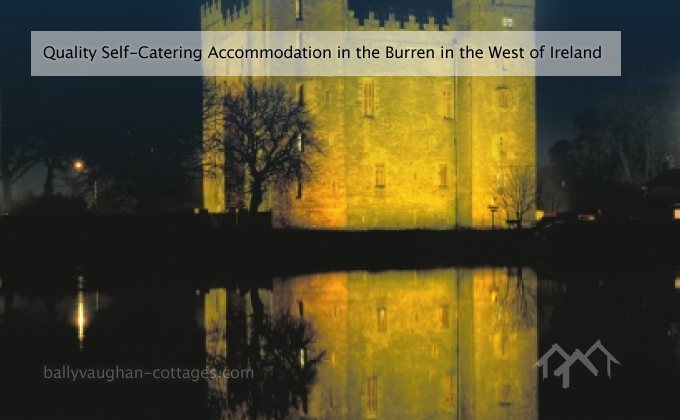 When you are in Ballyvaughan, you must attend one of the medieval banquets that are within easy driving distance from the village. This unique experience of eating and being entertained in music and song should not be missed. It will be enjoyed by both young and old and is especially good fun if you go as a group.
Bunratty Castle
Bunratty Castle (38 miles 61 kms from Ballyvaughan) is located at Bunratty, County Clare and is one of the best-known medieval banquets in Ireland. The entertainment is very good. All the staff are dressed in period costume. A highlight of the evening is the choosing of a King and Queen from the quests. There are two sittings during the busy tourist season.
Knappogue Castle
Knappogue Castle (30 miles 48.2 kms from Ballyvaughan) is located in Quin village, County Clare, hosts a similar medieval banquet to that of Bunratty. Banquets are available every night from April through to October. There are two sittings each night.
Dunguaire Castle
Dunguaire Castle (13 miles 20.9 kms from Ballyvaughan village) is located in Kinvara village, County Galway. Dunguarie celebrates the words of Ireland's Writers such as O'Casey, Shaw, Synge and Yates and is again similar to the banquets in the other castles. Dunquaire is a smaller and more intimate castle.