Traditional Irish Music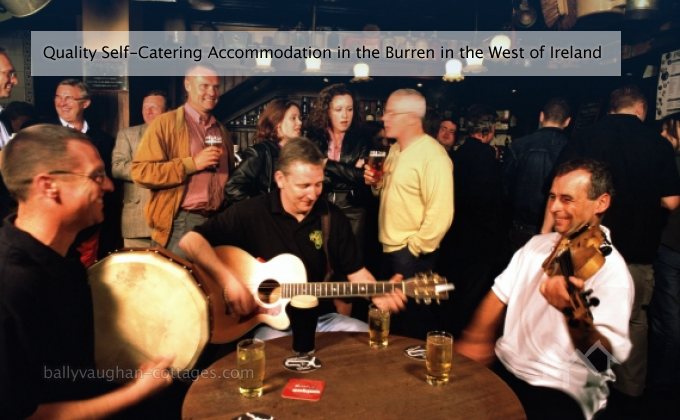 Traditional Irish music is one of the more exhilarating and uniquely Irish experiences that you have to experience while you are in Ireland. It is best experienced in the warm and comfort of a traditional Irish pub.
Each of the pubs in the village of Ballyvaughan has music sessions especially during the busy tourist season. As there is a good level of cooperation between each of the pubs, you will need to check "what's on where" when you are visiting the village.
As there is a great wealth of tradition and talent in County Clare for traditional Irish music, you will be able to listen and maybe participate in one of the villages and towns in the area as well.
Glór Irish Music Centre
There is now a wonderful facility located in Ennis known as "Glor" Since opening in 2001, it has established a pattern of innovative and ambitious programming of the best of Irish music and arts events in the country. It is the aim of the management of the centre to become the national centre for the performance of Irish music. Each summer they stage a summer music festival as well as other performances throughout the year, exploring the rich conversation between innovation and tradition in Irish music. Web: www.glor.ie
Ennis is 24 miles (38.6 kms) from Ballyvaughan