Aran Islands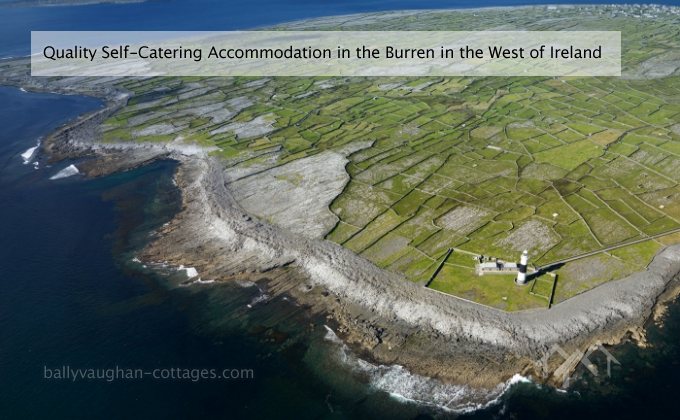 Though belonging to County Galway, the Aran Islands lie off the North West coast of County Clare.
There are three islands:
Inis Mor, the largest of the three islands. The principle village Kilronan, has a good deep harbour. An excellent visitors centre, Ionaid Arainn provides a solid introduction to the history and culture of the island. Undoubtedly the most famous and certaintly the most impressive site on Inis Mor is the great stone fortress of Dun Aonghus perched dramatically on the edge of a 300 ft cliff that falls away into the Atlantic ocean.
Inis Meain, the middle island, contains many ancient monuments and prehistoric times are represented by the superb oval stone fort of Dun Chonchubair. On Inis Meain you will experience language, culture and traditions, peacefully merging with all the modern conveniences.
Inis Oirr, with its barren and rugged landscape is the smallest of the Aran islands. It boasts one of the most beautiful beaches on the western seaboard.
They are easily reached by ferryboat from Doolin (30 minutes) and this exciting trip begins with a view of the spectacular "Cliffs of Moher" to the South and the Connemara Hills to the North.
The islanders are Irish speaking (living in a Gaeltacht area) and have held on to the best in Irish tradition and culture. Modern 20th century is slowly making an impact with the arrival of electricity in recent years. The islanders are distinctive in their dress and easy going approach to life. Fishing, a little farming and tourism form the main way of living. The black light "currach" is used by many of the fishermen who have learnt how to handle these boats even in the roughest of conditions.
Ancient churches, castle and burial mounds (centuries old) attract great interest. The characteristic high stone walls provide a maze-like walk around the islands