Bunratty Castle & Folk Park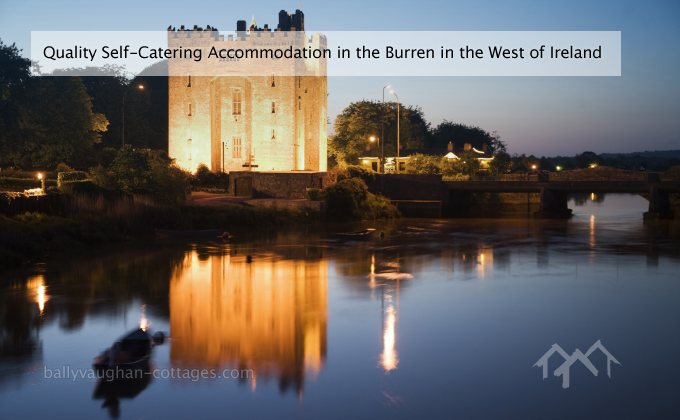 Bunratty Castle and Folk Park is one of Ireland's top visitor attractions. A visit to the Castle, the most complete and authentic medieval fortress in Ireland, and the Folk Park nearby is a wonderful experience for all the family. Built in 1425, the majestic Castle was restored in 1954 to its former medieval splendor. It now contains mainly 15th and 16th century furnishings, tapestries and works of art, which capture the mood of the times. You can marvel at the finest collection of medieval furniture in the country, which brings to life a vital part of the Celtic past and the heritage of Co. Clare. At nighttime, the Castle is the impressive setting for medieval banquets, which are held year-round subject to demand.
Within the grounds of Bunratty Castle is Bunratty Folk Park where 19th century Irish life is vividly recreated. Set on 26 acres, the impressive Park features over 30 buildings in a 'living village' setting. Included are a display of 19th century agricultural machinery (the Talbot Collection), eight farmhouses, two watermills, a blacksmith's forge and a church. A restored village street complete with pub, post office, school, doctor's house, hardware shop, printers, drapery shop, pawnshop and village hotel provides the main focal point for the park, which will enchant and mesmerise both young and old.
Traditional skills of the period are put to everyday use in the settings in which they were nurtured. On your visit, you can see crafts such as bread baking, weaving and pottery making. When you reach the Golden Vale Farmhouse (the rich farmer's house), you will receive a warm welcome from the 'bean a tí' (Irish for 'woman of the house') - tell her we sent you! Another very interesting feature at the park is the formal Bunratty Walled Gardens, modeled on the original Regency period garden, which supplied fruit, vegetables and flowers to Bunratty House built in 1804 (and now furnished in typical Victorian style). To round off a memorable visit, why not drop in to the fully licensed, old world Mac's pub on the village street, which is renowned for its delicious
home-cooked food. Incidentally, admission to Mac's pub after the Folk Park closes is free of charge.
Opening Times: Castle & Folk Park open all year round.
Location
38 miles (61 kms) from Ballyvaughan Village. The Castle & Folk Park are located just off the main dual carriageway (N18) between Limerick and Ennis - follow sign on N18