Cliffs of Moher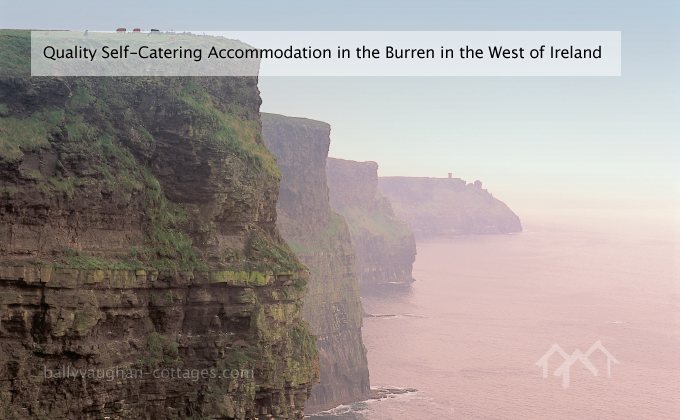 The Cliffs of Moher are among the highest in the British Isles and all the more impressive because they full sheer for nearly 700 feet.
They extend from Hag's Head west of Liscannor, for about 5 miles to the north. O'Brien's Tower marks the highest point, a derelict 19th Century tea-room made to look like a castle and built by a modest gentleman commemorated at Derreen. The Cliffs are named after a promontory fort that stood near Hag's Head - mothar means a ruin. An access road has been made from the L54 to the edge of The Cliffs at a point below O'Brien's tower. The view from the cliff-tops is superb.
From the tower there is a view over the Aran Islands, which from this point are seen end-on as though they were one: the first is Inisheer, the next Inishmaan, and beyond is Inishmore, "the great island".
To the north is the Galway coast across Galway Bay, with the Twelve Bens of Connemara hazy on the skyline.